2021 Spring Soirée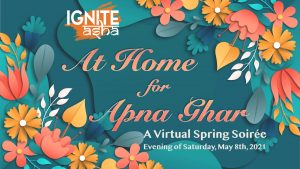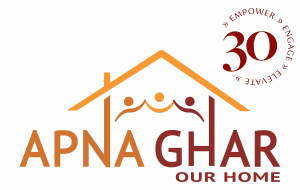 At Home for Apna Ghar
EVENT DETAILS
Event: Spring Soirée
Date: Saturday, May 8th, 2021 (virtual evening event)
Virtual Event: 8:00-8:45pm CST
Cost: $100/couple
Thank You Gift Box: Filled with delectable snacks and hostess gifts
Registration Deadline: April 15th (with gift box) or May 7th (no gift box)
Optional Enhancements: Pre-order your meals and cocktails for the evening (Deadline: May 1st). Link for detailed dinner menus.
OPTIONAL ENHANCEMENTS
10% of proceeds from cocktail and meal kits will be donated to Apna Ghar by Kama Bistro & Gaylord. Pre-order your meals and cocktails today and pickup on the day of the event.
Cocktail Kit: Shake and serve like a mixologist! A step by step tutorial will be presented during the virtual event. Feel free to order multiple drink kits for the evening!
Dinner Meal kits: Available for pre-order from Kama Bistro (LaGrange) and Gaylord (Schaumburg and Chicago).
APNA GHAR & FUNDRAISING IMPACT
The Cause|
1 year ago, as uncertainty around a pandemic threatened our well-being, we found safety and comfort within our homes. As the world shut down, there was no other place we wanted to be.
Unfortunately, there were some who were not as fortunate – their well-being was threatened within their homes.
As COVID lockdowns went into effect, the frequency and severity of gender based violence increased exponentially. Adult and children survivors have been adversely impacted throughout the pandemic.
**APNA GHAR is raising awareness to ensure resources and support during this crisis and beyond**
The Need|
Apna Ghar has a history of serving children, and they found that the pandemic has further exacerbated their trauma. Being away from childcare, school, and regular peer to peer interactions has led to behavioral changes and heightened anxiety among children at the shelter.
Ignite Asha's Spring Soirée will raise funds to help in the following areas:
Access to technology, such as iPads and computers, to allow students to attend school virtually and access other educational programs
Increase partnerships with local organizations to create safe, physically distanced opportunities for indoor and outdoor activities
Increase children's advocacy and counseling services
Update youth curriculum which includes opportunities for young people to mentor and lead
Continue programs to support young people as they work on relationships with parents and other adults in their lives
If you are unable to join us for the virtual event, you also have the opportunity to Donate today. All donations will go to support Apna Ghar. Please note that all donations will be tax deductible.