2020 3rd Annual Gala – Illuminate a Child's Life
There are 1 million registered heroin addicts in India. 1 in 5 are children..
One in six students aged between 8 and 11 in Delhi's municipal schools are addicted to substances ranging from industrial glue to injectable drugs, a survey conducted by the East Delhi Municipal Corporation (EDMC).
Prescription drugs such as Avil and Mephentine — which cannot legally be sold over the counter, are often handed out to children for just Rs 5 to Rs 25 per injection.
The most common drugs used by children are inhalants, heroin, and opium.
Almost half of the children said they need help in quitting. But for that the government, NGOs and society at large needs to extend a helping hand. In most cases, psychosocial changes alone may help the children quit drugs.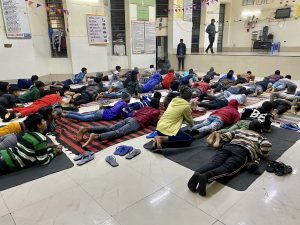 Event Details
Saturday March 7, 2020
7pm – 1am
Esplanade Lakes Ballroom
3500 Lacey Rd I Downers Grove, IL 60515
Attire: Black Tie Affair
Men – Tux optional
Women cocktail attire or formal Indian
Donate
If you are unable to join us at the gala we also have the opportunity toDonate today. All donations will go to support SPYM and their efforts in drug rehabilitation of youth in India. Please note all donations will be tax deductible.
Tickets – Ticket Sales are CLOSED
$225 per person (includes seated dinner, drinks, entertainment, dancing, late night food and more).
***No tickets sales at the event. Please note ticket cost is not tax deductible.***
Please contact us at info@igniteasha.org with any questions or specific table preferences for seating (8 per table).
Featured Entertainment
Master of Ceremony: Comedian Rajiv Satyal
DJ Maulin: Creative Sounds Entertainment